Hardwood Refinishing and Restoration Services, Orange County, CA
As with all things in life, an ounce of prevention is worth a pound of cure. Your hardwood floor is no exception. As your floor endures foot traffic day in and day out, the finish that protects the wood from dirt and debris is slowly being walked off. There are several different kinds of finishes used today, and each one has its own recommended timeline for the cleaning and reapplication of finish coating.
Do Your Wood Floors Require Sanding and Refinishing or Professional Cleaning & Maintenance?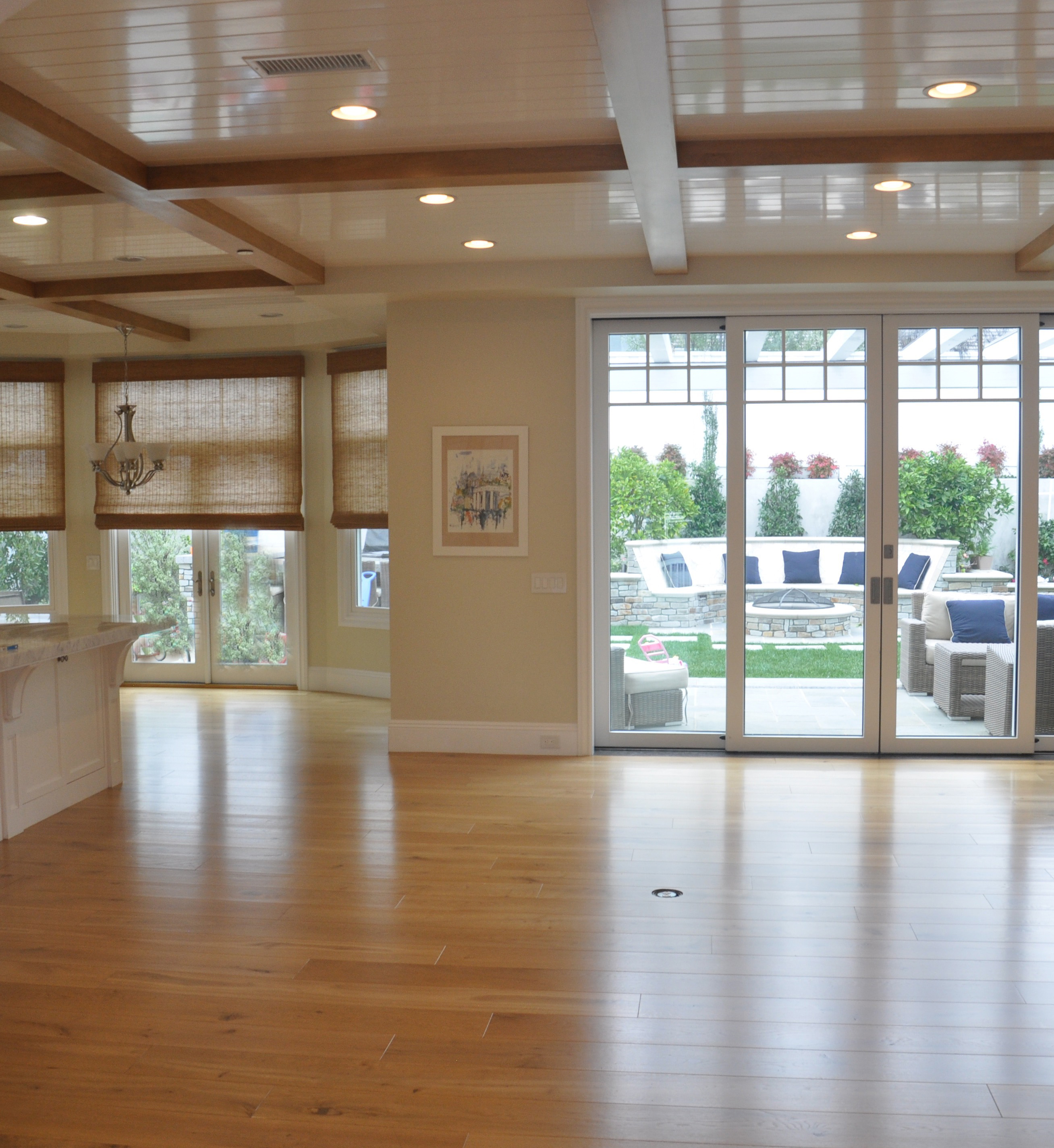 It is a common misconception that if your hardwood floors are looking worn or dull, that they will need to be refinished. Generally this is not the situation. More often than not, we do not believe that the sanding and finishing of your wood floors is the most practical or viable solution. In fact, we only recommend wood floor refinishing to our Orange County clients when doing so is absolutely necessary, such as when you want to give your floor a whole new look. Something different, something new.
Keep in mind, as soon as you start sanding your hardwood floors you begin to lose wood, the very thing you want to prevent. On average, we will take off 1/32" of wood when sanding a smooth wood floor and closer to 1/16" when refinishing distressed or textured hardwood floors. A floor can still look amazing with all of the natural indentations and dings left through the years, IF it is well cared for. This means having your wood floors professionally cleaned and maintained on a regular basis.
Orange County's Best Choice for Wood Floor Refinishing Services
When it comes to hardwood floor sanding and finishing, Gäte Hardwood Floors stands above the rest. Each of our staff is trained in house and undergoes a lengthy training process by which they are taught the proper techniques when refinishing hardwood floors. Orange County property owners can rely on Gäte to not only give them a number of color, treatment, and finishing options to help them achieve the desired look of their floors, but also ensure that the end result is one of unmatched quality.
Dust Free Wood Floor Sanding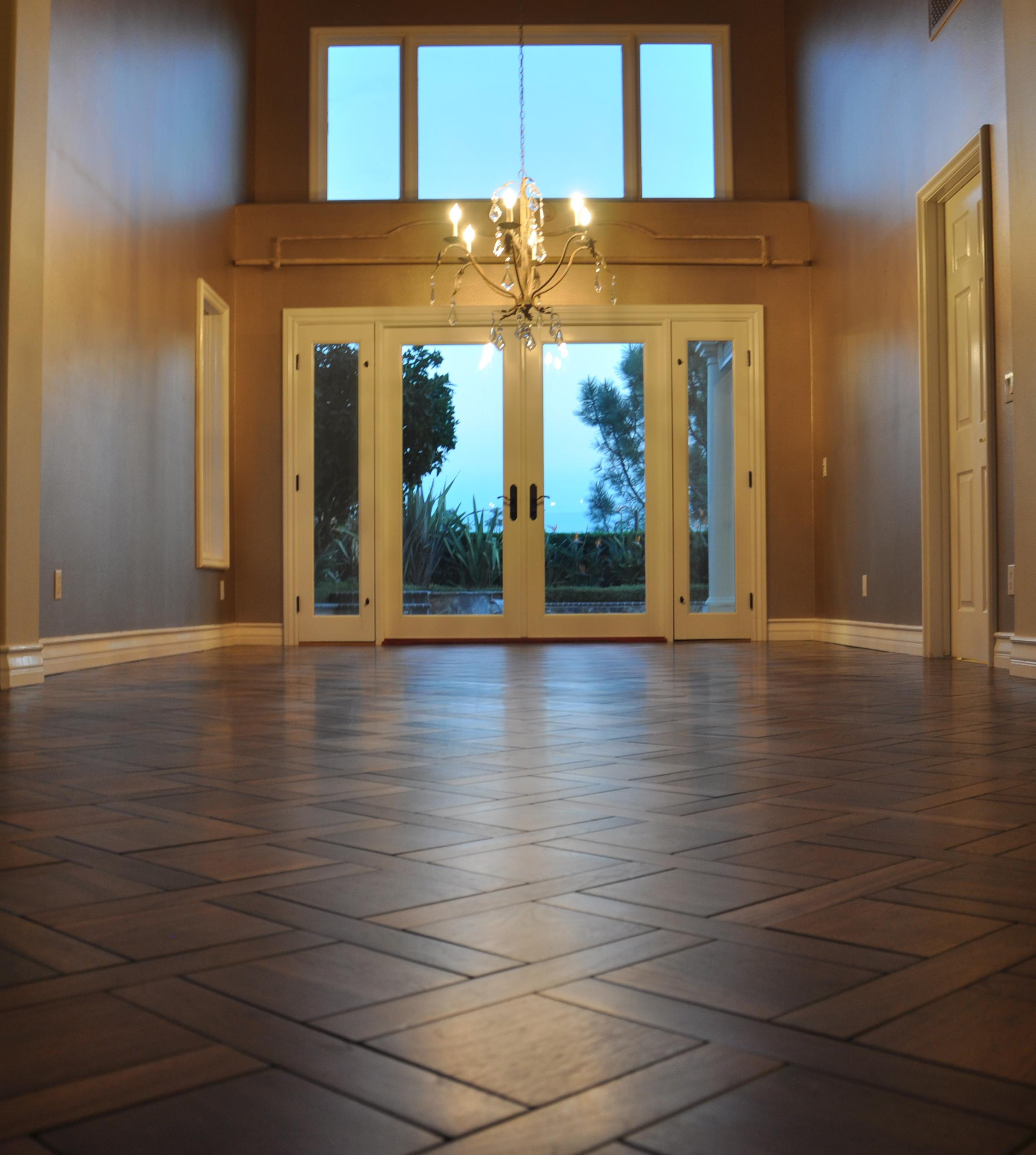 While you won't find a wood flooring company in Orange County that can responsibly promise that the process of refinishing your hardwood floors will not leave any trace of dust, Gäte will guarantee that each of the machines used to sand your wood floors will either have the newest state-of-the-art built-in vacuum system or will be attached to a powerful vacuum system that will take in 90% of the dust, or more. As a precautionary step, we also go through and thoroughly mask off cabinets, window coverings, wallpaper and other areas of the house that are not affected by the work being done. Though our projects generally pass a white glove test, we recommend a light cleaning before occupancy in order to ensure that the area is truly dust free.
Hardwood Floor Restoration and Repair
Gäte Hardwood Floors takes great pride in providing superior craftsmanship when restoring antiqued, or naturally aged historic wood floors. Quite often this process will require replicating the same techniques applied when these floors were first installed and finished, some of which is painstakingly detailed and labor intensive. Be it a historic narrow strip or plank floor, parquet or patterned floor such as herringbone or chevron, hand scraped or smooth, Gäte is the Orange County wood floor company to call for your hardwood floor restoration and repair needs.
Wood Floor Cleaning and Maintenance Services
To read about our hardwood floor cleaning and maintenance services available from San Clemente to Fullerton, and everywhere in between, click here.
Whether you are interested in our dust-free wood floor refinishing services, restoration and repair, or professional cleaning and maintenance anywhere in Orange County, call us today at (714) 544-4283. Our advice is always free.