Bona Certified Craftsman

At Gäte Hardwood Floors, all of our hardwood flooring specialists are Bona Certified Craftsmen. As such, they must adhere to a rigorous schedule of ongoing training in the use of Bona's industry-leading hardwood flooring finish products and equipment. We proudly use Bona Traffic, the most durable wood floor finish on the market today, and offer our clients several cost-effective cleaning and finishing options to match the needs of wood floor. Depending upon the condition of the floor and the goals of the client, we will either use Bona's Clean and Coat System using the Bona power scrubber, Bona's Recoat System for deep cleaning and recoating (which doesn't require deep sanding), or a traditional abrade and coat maintenance service for hardwood floors which require a deeper finish treatment. We can also perform wood flooring repairs if needed.
Richard Marshall Certified Craftsman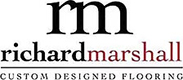 Gäte Hardwood Floors is also a Richard Marshall Certified Technician. This means that we are fully qualified to install, maintain, refinish, and restore Richard Marshall floors. By having a Richard Marshall Certified Technician perform all work on your Richard Marshall flooring, you'll ensure that your original warranty remains valid and protect your valuable investment.